Gioacchino Palumbo is a Theater Director, Teacher and Film-maker.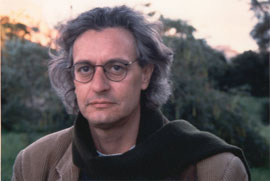 He graduated from Bologna University in Arts, Music and Spectacle (D.A.M.S.).
He has directed more than forty theatrical shows, staged at national and international Theater Festivals, Public Theaters and Cultural Institutes, in Italy, Spain, Russia and Switzerland.
He has directed docu-fiction films for the Rai radiotelevisione italiana, and for some Universities and Arts Councils.
He founded the Elema Group (Video and Theater Production) in Florence and is the director of Theater Molo 2 of Catania, where he has held courses in Acting, Drama Techniques and Body Expression since 1981.
He teaches Theater History, Theater Direction and Performing Arts at the Academy of Arts in Catania. Here he also coordinates the Institute of Scenography. (Graduate course)
He works with The Teatro Stabile (National Theater) of Catania, where he has directed shows (Frida, Elettra, Fedra, L' orso, La proposta di matrimonio, Il canto del Cigno, etc.). He directs and is professor of Performing Arts in The Actors School at this same theater.
He has written and published the books "Pioneers of 20th century theater", and "History of Theater Molo 2 / diario di bordo" and many studies and articles.
Since 1981, he has directed, all over Italy and in some European Cities (Valencia, St. Petersburg ) drama, performing arts and body movement workshops , at many Universities ( Faculties of Language, Literature, Political Science, School of Psychiatric Specialisation in Catania, Social Sciences in Messina), Theaters, Psychology Schools and Centers.